Path of Life Ministries
Path of Life Ministries is a non-profit dedicated to serving the homeless and poor in Riverside, California. Their mission is to help people become productive in life and enhance the social and economic vitality of families and the community by addressing barriers of dysfunction through the process of rescuing, restoring and rebuilding the lives of the homeless and poor. By focusing on three pillars, stable housing, earned income and personal development, Path of Life pushes toward its vision of a whole and healthy community with whole and healthy people. Toward this goal, POL offers a range of programs including a community shelter, a family shelter, a cold weather shelter, rapid rehousing for families, permanent supportive housing, street outreach, behavior health programs, childcare, rental assistance, employment pipeline and recuperative care.
Giving Tuesday Conversation With Path of Life CEO Damien O'Farrell
On a journey from personally experienced struggle, Dave and Melina discuss building a food bank and joining forces with an important local charity. In a chat with Damien O'Farrell, CEO of Path of Life Ministries, they explore their growth and evolving opinions about how to serve. As a society our initial thoughts might make us hesitate to support or participate in such an effort. At New Wealth Advisors Club, what we do isn't nearly as important as why we do it. For more information, please check out thepathoflife.com.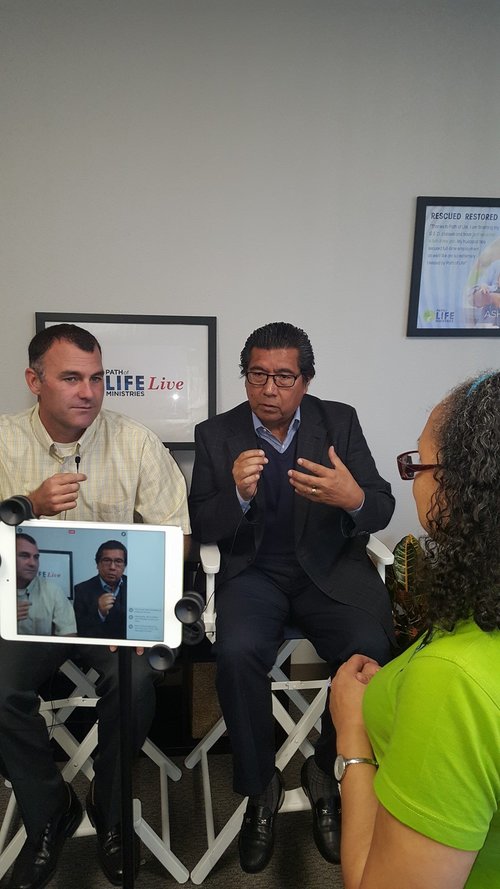 Sheltering Hearts
Sheltering Hearts is an annual fundraising where Path of Life thanks its supporters with food and fellowship while raising funds to help cure homelessness. At the event, POL highlights stories of homeless families they have been able to rescue, restore, and rebuild in order to help them become self-sufficient. In addition, Sheltering Hearts presents awards to those who have served Path of Life in outstanding ways. Finally, guests can bid on terrific auction items which help raise money for programs and services dedicated to helping break the cycle of homelessness.
Bank of America Award
Path of Life Ministries was quite literally taken by surprise when it was named the recipient of a $200,000 unrestricted grant for being the 2017 winner of the annual Bank of America Neighborhood Builder Award. The event took place at a Riverside City Council meeting where CEO Damien O'Farrell was asked by mayor Rusty Bailey to attend for a regular Q & A session. Instead, the award was presented to Mr. O'Farrell and Path of Life Ministries. The award is only given out to respected and trustworthy nonprofits that can ensure the funds are used for the purposes of helping improve their communities and in Path of Life's case, helping end homelessness in Riverside.
Donating is easy and every penny counts. Donations help Path of Life create, deliver and grow programs and services that help POL rescue the homeless and poor and begin restoring and rebuilding their lives. 92% of donations go directly to these programs and services and only 8% are used for administrative support, which is terrific.
Path of Life Ministries welcomes volunteers. Two important needs our the Guest Chef Program and the Angel Allies program. The Guest Chef Program invites teams of volunteers who purchase, prepare, and serve meals to guests at Path of Life's shelters. The Angel Allies program invites volunteers to help homeless people be come self reliant by providing for a specific need that will make a big difference in ushering them toward stability and self sufficiency.